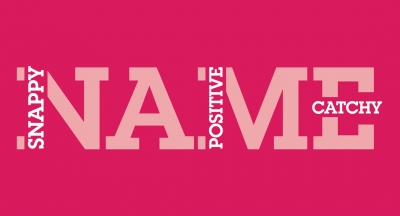 If you are preparing to choose a name for a new company, or are thinking of rebranding an existing entity, an important decision awaits you. In 2016, marketers might squabble over which is more important – a brand name or the URL of their home page? But what invites little debate is the fact that in the internet age, for many companies a brand name has never been influential in achieving their business objectives.

More important than you think
You might encounter naysayers when it comes to the importance of a brand name. "It doesn't make any difference!" they will claim. "What it comes down to is the product or quality of the service". While how you operate under your brand name will likely be most critical to your success – after all, how many clients would you lose or gain on the strength of a brand name? – the words we choose to represent our company can say a lot about how we wish to position ourselves.

Take Apple for instance; while there was previously no clear link between the fruit and computer technology, don't let that persuade you that no thought went into the name choosing process. Apple founder Steve Jobs admitted his spell as an orchard employee had a bearing on the name, but more tellingly, revealed that he believed the word was "fun, spirited, and not intimidating" – isn't that everything the Apple brand projects to us today?

Three golden rules to remember
If we are clear on the importance, it's time to move on to the process of choosing a brand name. Here are three quick fire golden rules to consider when mulling over your moniker – and remember, you can always call in the experts should you experience a creative block!

1. Make it snappy – long winded, hard-to-pronounce, or tricky to spell brand names are not a good recipe. For an era in which we love to share our knowledge with others, making your brand name catchy, but also cutting out potential for inaccuracies, will stand you in good stead.

2. Careful with your connotations – brand names should, on the whole, possess semantics that relate to positivity; whether you are looking to project reliability and efficiency, fun and friendliness, or imagination and innovation. What you should never do is mistakenly choose a name with any potential negative connotations.

3. Keep your domain name in mind – there is no denying the importance of a favourable URL for many businesses. If driving traffic to your home page is a top priority, you may want to check that there is an available domain name that matches, or is close to the brand name that you have in mind.
Back