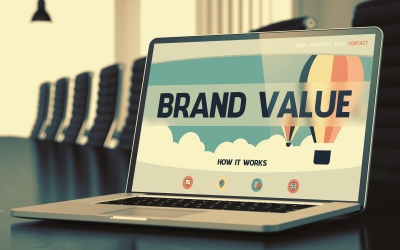 We hear a lot about how to create and market a brand, but what about its actual value?

In this month's blog we assess if brand value can be measured, ask how it might be done, and provide some top tips on how to add value to a brand.

How can brand value be measured?

There are several theories on how measuring brand value should be done. Some experts view brand value as a separate entity from the physical assets of an organisation; something which is also referred to as 'goodwill' – that is, if a company was sold tomorrow, the extra value beyond its tangible assets which would be part of the asking price. This 'invisible' value relates directly to the loyalty of a customer base, which is, of course, linked to the brand.

Others add up the sum total of marketing campaign values, as well as licensing and registration costs, to reach a brand value. However we define the value itself, it is clear that a brand is integral to the success of both B2B and B2C orientated organisations – so how to go about increasing it?

Five steps to increasing brand value

1. Broaden brand awareness - it might be said that a brand's worth is entirely dependent on the recognition it receives. Even in niche sectors, value can be added by increasing the number of eyes which see a brand in a positive light. This can be done by a number of means, including marketing campaigns and events.

2. Build a brand personality - one way to engender loyalty and trust in a brand is to stay true to your brand values, and build a brand personality. Do you want your brand to be caring, a pillar of reliability, or exhibit creative spark? Whatever your brand objectives, bringing out your desired characteristics when marketing and packaging your product or service can add value to your brand.

3. Make your brand an experience – do people associate your brand with an interesting, enjoyable or educational experience? It is hard to deliver experiences in every part of the 'customer journey', but through online techniques such as video and streams, as well as via live events, you should endeavour to up customer engagement through delivering experiences. This could mean a barber offering free haircuts on one afternoon every month, or a real estate developer setting up a VR headset at an exhibition, to give delegates a virtual tour of their properties – the key is the time an individual spends engaging with a brand, and the benefit they receive.

4. Deliver outstanding customer service / account management – how you look after your customers as an organisation can be make or break for your brand. Value can be added by taking a conscientious approach to customer concerns, and also being sure that you maintain an open line of communication.

5. Champion your sector – you can increase your brand value among your peers – competitors and potential partners in your sector – by acting as an advocate for your industry as much as possible. This can mean anything from representing your sector in community initiatives, to upping your PR activities by producing thought leadership articles, or taking the lead with fronting seminars at trade shows and roundtable events.

There's our five steps to increasing brand value. Remember, in the long run, attempting to calculate brand value can be less important than the activities you undertake to strengthen a brand!

Back