Exhibition Stand for CSI Manufacturing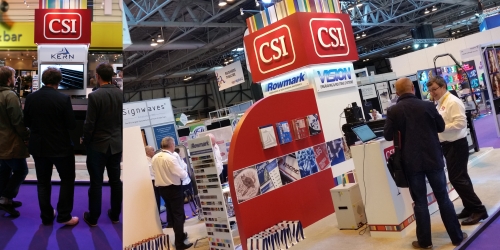 It takes experience, confidence and a great deal of trust to commission your chosen branding and marketing design house to create a new exhibition stand for you, especially when it's a highly prestigious event and the first time you've booked space only.

Matt Kirwan, CSI's Managing Director knew this wasn't a project we would take lightly, and at Brand51 we were very aware of the honour being given us when CSI asked us to design, build and construct their stand for the UK's premier sign making, display solutions and digital printing event, held recently at the NEC.

For CSI the move from a shell scheme to a 6m x 7m space only stand was significant, marking the next step in the development of their marketing profile, the intention being to highlight the key elements of their business, the Kern Laser, Epilog Laser, Vision CNC machines and their range of Rowmark engraving & sign making materials, with product samples of each of these to demonstrate the capabilities of each system.

For us the project started with the production of our design proposals. We submitted fully scaled CAD drawings and supporting rendered images to CSI for comment and approval, with planning meetings being held to refine the details to the point where the design was passed to our exhibition team who manufactured the stand, planning and managing the supply of all services including electrics and rigging, and constructing the stand in our on-site warehouse. Brand51's parent company, IES, then organised the shipment of the stand to the NEC, where our team project managed its on-site assembly and build plus the installation of all CSI's demonstration machinery and equipment.

We remained available to give on-site support throughout the exhibition and then were responsible for dismantling, removal from site and secure on-going storage. Everything went smoothly, and the stand received many compliments.

William Stafford Marketing Manager CSI says. "We decided to use the Sign & Digital show as a launch event to announce our new Kern laser distributorship. This meant that we would have to increase our show presence and in doing so undertake our most ambitious trade show project to date. We had worked successfully with Brand 51 on other projects and they seemed the logical choice to help us this time around. Their team didn't disappoint and they handled the project from front end design to logistics and stand build. They delivered an eye-catching and functional exhibition stand to a very high standard and on time. Great job!"

Brand51 is one of the very few organisations that can offer a complete turn-key exhibition service anywhere in the world. More than that, we're rather unique in doing so entirely in-house, with no sub-contractor services employed. We can design, build, ship and construct, install services, provide technical back-up, dismantle and store any size, type or complexity of exhibition stand, for any event, anywhere. Next time you consider exhibiting; why not give us a call?